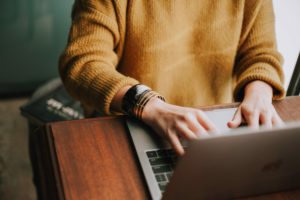 And while a few things are different, like not visiting our clients (we miss you guys!), we've been operating *almost* as usual. For those of you new to working from home, our team has compiled their favorite WFH tips! Here are the top five:
Wear Your Most Comfy Outfit
Because no one is there to judge you!
Working in your PJ's every day is like a dream come true – literally! Who doesn't want to be cozy while working? Take advantage of being home and wear whatever you feel most comfortable in!
Enjoy Your New Co-Workers
Or, get a new one!
Working from home means you've probably got some new co-workers, whether that's a spouse, kids, mom, dad, roommate, or even a pet! Spending more time together as a family, even if that's while you're working, is definitely something to take advantage of. If you live alone, consider adopting or fostering a new furry friend to keep you company!
Listen to Your Favorite Jams
You have no co-workers to annoy!
Without having a whole office to consider, you can crank it up and listen to whatever music is conducive to your productivity. There are a plethora of 24/7 playlists available online that are great to listen to while working!
Keep Your Normal Schedule
It'll help you stay on track!
Whatever your usual work schedule is, try your best to stick to it while working from home! Keeping some semblance of a schedule or routine can help you feel more in control and organized. If you're not a strict routine type of person, we recommend creating a simple daily morning routine that you can keep up with!
Keep It Clean
Your inbox will thank you!
Working at home means the potential for distractions is high. Keeping both your physical and digital workspace clean and organized will minimize distractions and help keep you on task.